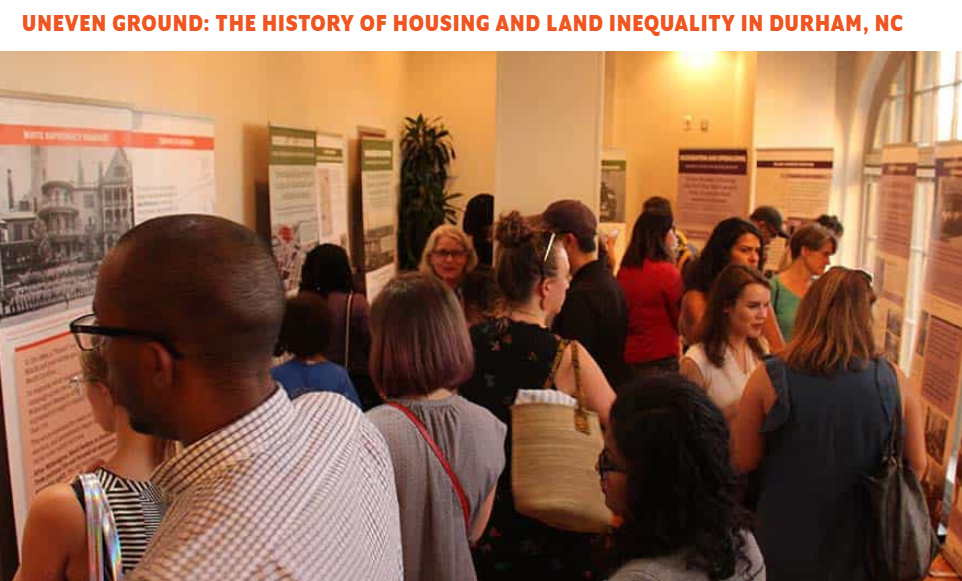 Please come to Watts-Hill Hall (dates below) and explore faith and the history of racism and housing through the Uneven Ground exhibit.
Originally commissioned for the 150th anniversary of Durham as a city, the exhibit is a tool for reflection, learning, and dialogue. 
Seeking Justice on Uneven Ground Exhibit display dates: Friday, January 3 – Sunday, February 16, 2020
Special events held at First Presbyterian Church:
January 14: Gentrification: the New Segregation? 6-7:30 p.m.; gallery viewing, panel and community discussion on past and current housing issues in Durham and how faith communities have played a role in the segregation, integration, and development of the Durham community.
January 19: Opening Reception at 12:15 p.m.; gallery viewing, refreshments, and a presentation by Bull City 150.
February 4: Sharing, Naming, and Healing at 6 p.m.; an open house closed by a vigil of Durham residents sharing their own stories of their housing experiences in Durham, community responses, and prayers of lament and hope for communal healing and justice.
Description: In recognition of the image of God in us all, the dignity and sacredness of all life and Christ's command to love one's neighbor as oneself, Seeking Justice on Uneven Ground brings together the history of racism and housing segregation in Durham with the faith-based affordable housing justice work of Duke Chapel and First Presbyterian Church. You are invited to reflect on our city's history, our churches' histories, our faith perspectives, and what affects all of us: housing and racism. First Presbyterian Church has a rich history of housing work in Durham, from collaborating closely with Urban Ministries of Durham, Habitat for Humanity and Housing for New Hope, to being involved in Durham CAN's efforts. Duke University has been involved in land banking, loan trusts, and advocacy for over twenty years. We invite you to delve deeply, prayerfully, and vocally through discussions, panels, vigils, and receptions alongside your neighbors. Website for Uneven Ground/Bull City 150: https://www.bullcity150.org/uneven_ground/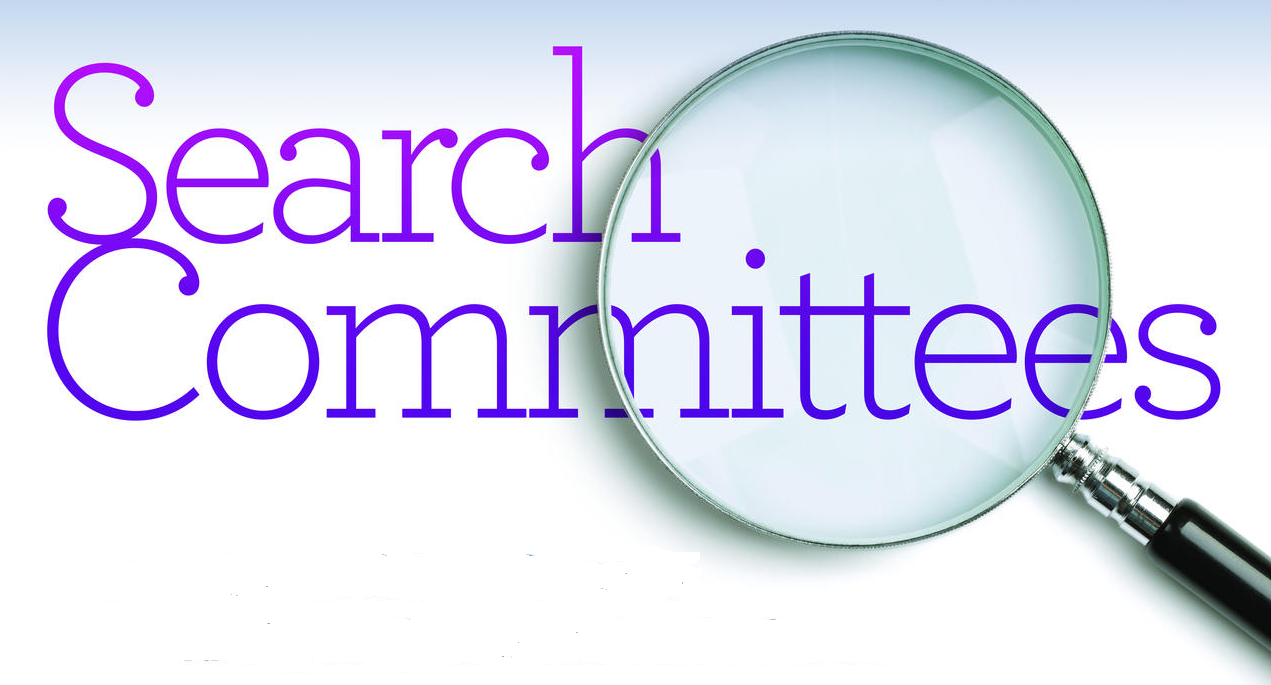 Search Committees at First Presbyterian Church, Durham are seeking to fill two positions: Director of Children's Ministry and Administrative Assistant.
Director of Children's Ministry Position: The job description can be found here. Qualified candidates should apply by email: [email protected]. Questions may be directed to Search Committee co-chairs Kathy Conner ([email protected]) and Laura Kelley ([email protected]).
Administrative Assistant Position: We are no longer accepting applications or inquiries for this position as of January 1, 2020.
First Presbyterian Church honors and celebrates the human diversity and unity that God gives us in Christ, welcoming individuals of every age, race, nationality, gender, ability, sexual orientation, and economic circumstance to participate fully in the life of the church.
Mission statement and Core Values: /about-us/core-values/
For open positions, FPC members, a family member of FPC members, and regular non-member attendees are not eligible to apply.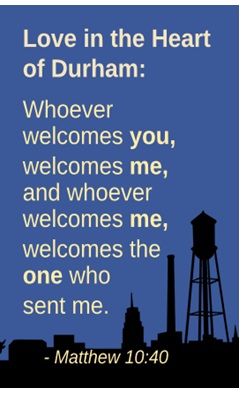 Did you receive a stewardship packet for 2020? Have you completed AND returned your pledge form? Questions about the pledging process should be directed to Tom Bloom, the Business Administrator, at 919-682-5511 x 216 or [email protected] Click here to read and hear about our 2020 Campaign and how pledges are used.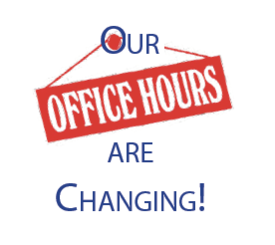 REGULAR OFFICE HOURS:
Monday – Thursday, 9:00 a.m. – 4:00 p.m. Volunteers will be at the desk to answer the phone and assist people at the door from 9:30 a.m. – 4:00 p.m.  The Walk-in Ministry interviews clients on Mondays and Thursdays from 9:00 a.m.to 12 noon.
Friday, 9:00 a.m. – 2:00 p.m. A volunteer will be at the desk to
answer the phone and assist people at the door from 9:30 a.m. – 1:30 p.m.
The church office is not staffed on Saturdays or Sundays.

A new church year began on September 1, 2019. This year's theme for our Ministry of Christian Nurture is "Building Connections." Check out our study opportunities for adults, children, and youth by clicking on the appropriate link.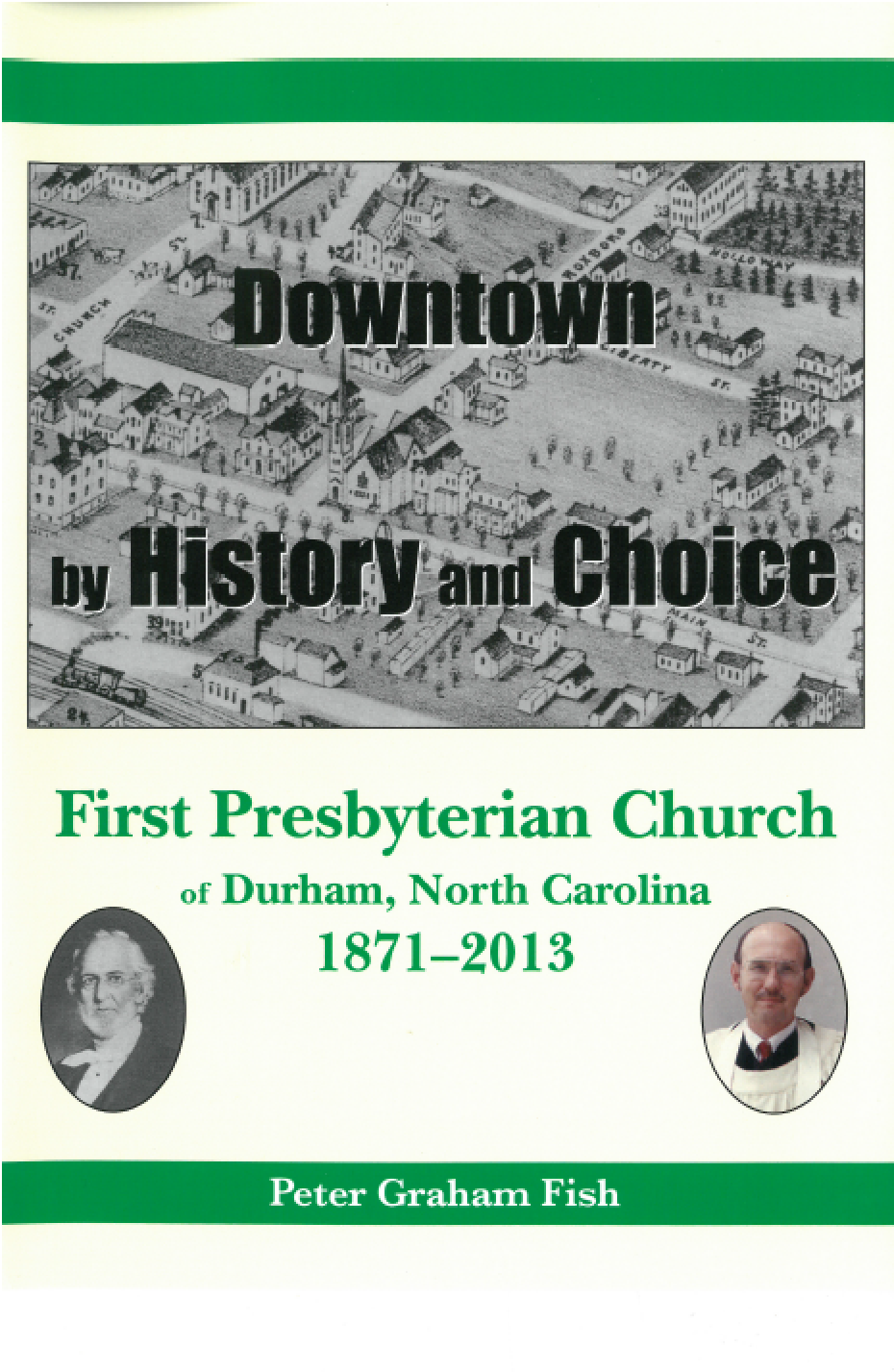 Downtown By History and Choice: First Presbyterian Church of Durham, NC, 1871-2013.  Copies of Peter Fish's book on the history of FPC can be purchased in four ways:  1) – At the church for $25 (make check payable to First Presbyterian Church);  2) – at The Regulator Bookshop ($30);  3) – By Mail Order with discount: Go to the Carolina Academic Press web site (www.cap-press.com); click on "Shopping Cart;" enter title (Downtown by History and Choice); click on "Check Out;" on page 1 of "online Order Form" go to box labelled "Discount Code" and enter FPCBOOK (in caps); make payment including shipping charge and sales tax for N. C. residents. Cost is typically $38.44;  or 4) – Through Amazon.com for $65.00.